---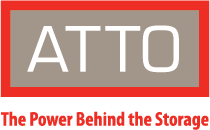 Atto Technology
ThunderLink™
I ThunderLink Desklink Devices di ATTO consentono l'archiviazione e connettività di rete per dispositivi SAS, SATA Fiber Channel o Ethernet adattati per connessioni hot Thunderbolt.
I prodotti ThunderStream e ThunderLink di ATTO sono
focalizzati nei prosumer e nei mercati video e audio professionali in cui le prestazioni e gestione di latenza ricoprono un ruolo chiave.
Con la connettività Thunderbolt, i professionisti creativi hanno accesso a spazio di archiviazione e velocità che precedentemente con USB e FireWire non erano disponibili.
L'esclusivo Advanced Data Streaming (ADS™) Technology di ATTO, fornisce una controllata accelerazione dei dati in modo tale da offrire altissime prestazioni e trasferimento dati affidabili per il montaggio video, audio digitale, video on demand o applicazioni di database.
Consente prestazioni di alto livello, basse capacità di latenza per sistemi all-in-one, laptop, computer integrati per lo spazio di archiviazione e la connettività rete
Dimostrata intorperabile con i principali venditori di storage, hardware e software
Interfaccia utente semplificata per la configurazione, monitoraggio e gestione, permette agli utenti di controllare semplicemente i loro storage, senza incontrare alcun tipo di problema o complessità.
ThunderLink® Thunderbolt™ 2 and 3 Devices
Thunderbolt 3 to Fibre Channel Adapters
Thunderbolt 3 to 40GbE Adapters
Thunderbolt 3 to 10GbE Adapters
Thunderbolt 2 to 6Gb/s SAS/SATA Adapter Products
Thunderbolt 2 to Fibre Channel Adapter Products with ADS™
Thunderbolt to 10Gb/s Ethernet Adapters for Networks & Storage
ThunderStream® Thunderbolt™ 2 connectivity products
Thunderbolt 2 to 6Gb/s SAS RAID Deskstop Storage Controller
| Product: | Transfer Rate: | Input Connectors: | Output Connectors: | Connector Type: |
| --- | --- | --- | --- | --- |
| ThunderStream® SC 4808D | 20Gb/s | (2) 20Gb/s Thunderbolt | (8) 6Gb/s SAS/SATA | Thunderbolt 2/SFF-8088 |
Per maggiori informazioni contattate i nostri esperti e scoprite come le soluzioni ATTO Technology sono in grado di risolvere le vostre esigenze!